Parents everywhere know the daily struggle: Your kid is bouncing off the wall or is bored to death, but you don't want to put him in front of a screen, again.  In my despair, I have been researching ways to entertain my kids without reverting to electronic devices. My requirements for the "perfect" toy are simple: wearing the kids out inside our home, while supporting their mental and physical development, oh, and be extremely fun, all at the same time! Seems too much to ask for, right?
Well, I used to think so, until I came across BrainRich Kids Indoor Jungle Gyms! I'm happy to say that their play gyms are THE best entertainment solution for kids (and their tired parents).
The local Bellevue company is bringing the fun of outdoor climbing and swinging to our homes, thanks to their fully adjustable tension- or wall-mounted activity centers for children.
My kids have been lucky enough to test the deluxe model "Spider" and have been loving it from day one! The positive changes I have been observing in my own kids are so aplenty that I want to share the benefits of the BrainRich Kids play gym with you.
Here are the Top 10 reasons why BrainRich Kids gyms are a must for every kid's home!
 

EXERCISE – 

BrainRich play gyms are exactly that: indoor gyms for our littles. Our highly sedentary lifestyle affects kids just as much as adults, and should be counteracted with safe and effective physical activities. By providing plenty of ways to climb, swing, and grapple on the gym, kids develop strength and coordination, while having a blast. My friend lovingly refers to it as a "baby CrossFit gym"- without the pretentiousness, of course. Simply put, it has all of the benefits of a workout and exercise routine, plus a whole lot of play and fun.

CONFIDENCE – 

My kids have been playing on the "Spider" model for a few months now, and one of the biggest changes I have been seeing, is their increased confidence, on the playground and beyond. It is incredible to watch my 18 month old easily climb up ladders that most 3 year olds don't dare to try. This confidence boost also spreads into social interactions, such as being braver at making new friends and during new situations, in general. Being able to master the gym at home, kids feel more accomplished and confident to take on new challenges outside of the house.

BRAIN DEVELOPMENT – 

Scientific studies have proven a positive connection between physical play and brain development in kids. BrainRich Kids links mental enrichment so seamlessly with playful exercise that one tends to forget they are connected. Thus the name, becoming truly "BrainRich" through play is an amazing way parents can support their children's brain development by working out their bodies at the same time. You can find more information on the relationship between physical activity and cognitive functions in children here , and here.

INDOOR FUN – 

Raining 9 months out of the year, the Pacific Northwest is not the most convenient for outside play. Although we don't mind the rain, the wet weather makes us appreciate playing inside even more. Having the jungle gym in your own house makes for easy rainy day pastimes. Previously only limited to "nice" days outside, kids can exercise no matter what the weather looks like. By the way, the same applies to scorching hot weather, when the slides and other playground equipment are simply too hot to play on. Another benefit: No need for sunscreen inside!

ACCOMPLISHMENT – 

The BrainRich Kids gym helps kids find their boundaries, while also allowing to stretch them, at the same time. It takes a great deal of coordination and planning in order to get from point A to point B on the gym. Learning to assess their own skills and abilities is a great advancement for kids of any age. My favorite, however, is seeing your kids surprising themselves by being able to master something they were not able to do the other day. The proud look on their faces is priceless!

NO AGE LIMITS – 

One of the most important things for me was the fact that both of my children can play on the jungle gym together. A lot of times, the 7 year age gap deters them from enjoying the same toys. This is not the case with our jungle gym:  It is just as fun for my 18 months old toddler as it is for my 8 year old son, thanks to the adjustable accessories of the BrainRich Kids gym. For instance, we keep the swing at a low height, so Charlie (our toddler) can use it. But when Alex is ready to use the swing, he easily wraps it around the solid metal frame to allow for higher swinging. The BrainRich jungle gyms are suitable for kids ages 18 months to 12+ years, but truly any age. As the metal frame holds up to 220+ lbs., parents can get in on the fun and work out together with their kids in the comfort of their own home.

SMALL FOOTPRINT – 

During my research I found that other "indoor play" solutions required an extensive space, which I frankly do not want to give up in my home. The small footprint of the BrainRich Kids gym and its colorful design integrates perfectly into our play room, without being in the way of other toys or furniture. Additionally, there are smaller sized models available that barely take up any space at all.

QUALITY – 

The most frequent comment I hear from parents who see our BrainRich Kids jungle gym is "Wow! It's so sturdy!" And it truly is – simply touching the metal frame, you can feel the exceptional quality and workmanship. Naturally, my kids' safety when exercising is of the utmost importance to me. I am glad to say that our BrainRich Kids jungle gym has exceeded all of my expectations regarding safety standards. Being jumped and hung from for months now, it has not budged or moved even a millimeter. As the kids grow and develop their climbing skills, I am certain that our play gym will be part of their workout and play routine for many years to come. The 12 months warranty is an added benefit to ease one's mind. Also, I highly recommend getting the safety mats for your indoor gym, just in case a little one tumbles down.

CONVENIENCE – 

Sure, there are public indoor playgrounds and bouncy houses available to get the wiggles out of the littles. But I know I am not alone saying this: Nothing beats the comfort of your own home versus getting the kids ready, braving traffic, only to deal with long lines and overpriced entrance fees. In the long run, a BrainRich jungle gym is more cost effective and a true investment into your children's health. Also, parents eager to avoid Flu season are going to love not having to share the gym with dozens of sniffy noses.

PLAY DATE READY – 

When my sister-in-law was visiting with her 2 daughters, our jungle gym housed 4 kids at any given moment. The ages ranged from 8 to 12 years old and my toddler, of course. Since the BrainRich Kids gym comfortably accommodates multiple children, we are always ready to host play dates now. Any time Alex and Charlie have friends over, everyone gathers around the gym. Becoming the play center of our home, we are looking forward to more climbing, rappelling and swinging fun!
My toy hero and screen time slasher, BrainRich Kids gyms are providing play and exercise, while supporting healthy minds and bodies in our children. I can truly say that this universal children's entertainment solution is one of the best things parents can do for their kids' physical and mental development. Fun is a welcome side effect.
If you have any questions about the gyms, prices, installation, etc. please reach out to the wonderful people from BrainRich Kids. They are a joy to work with and always ready to help!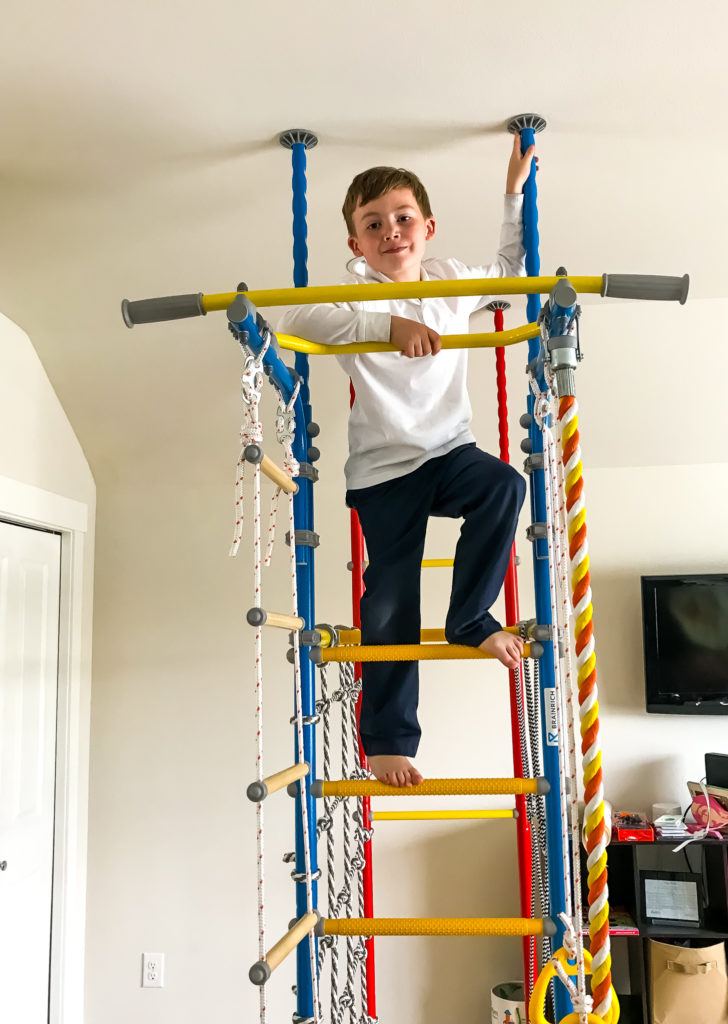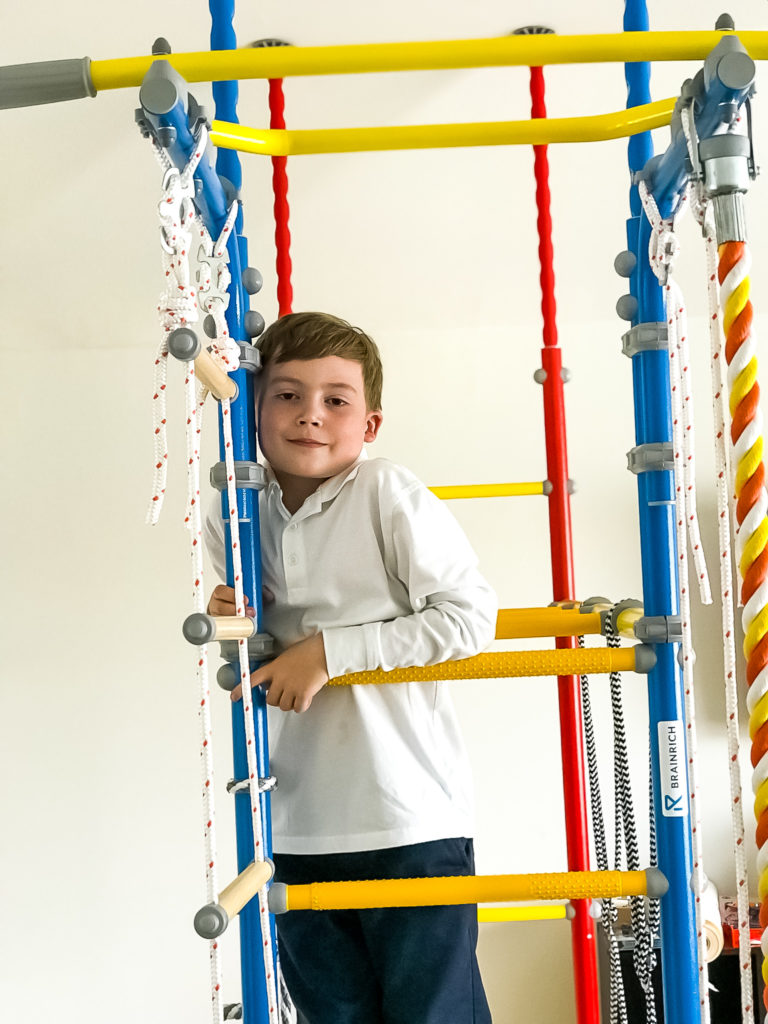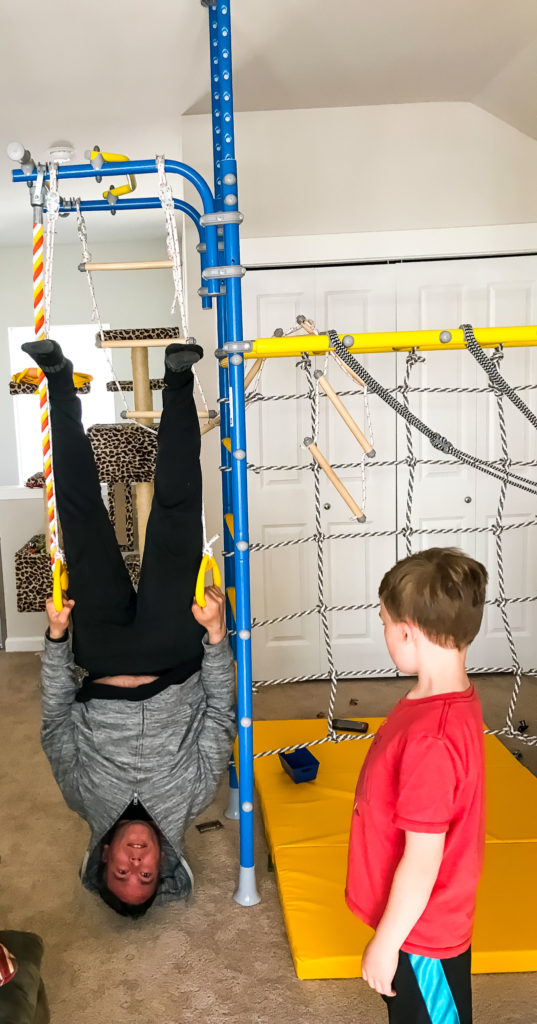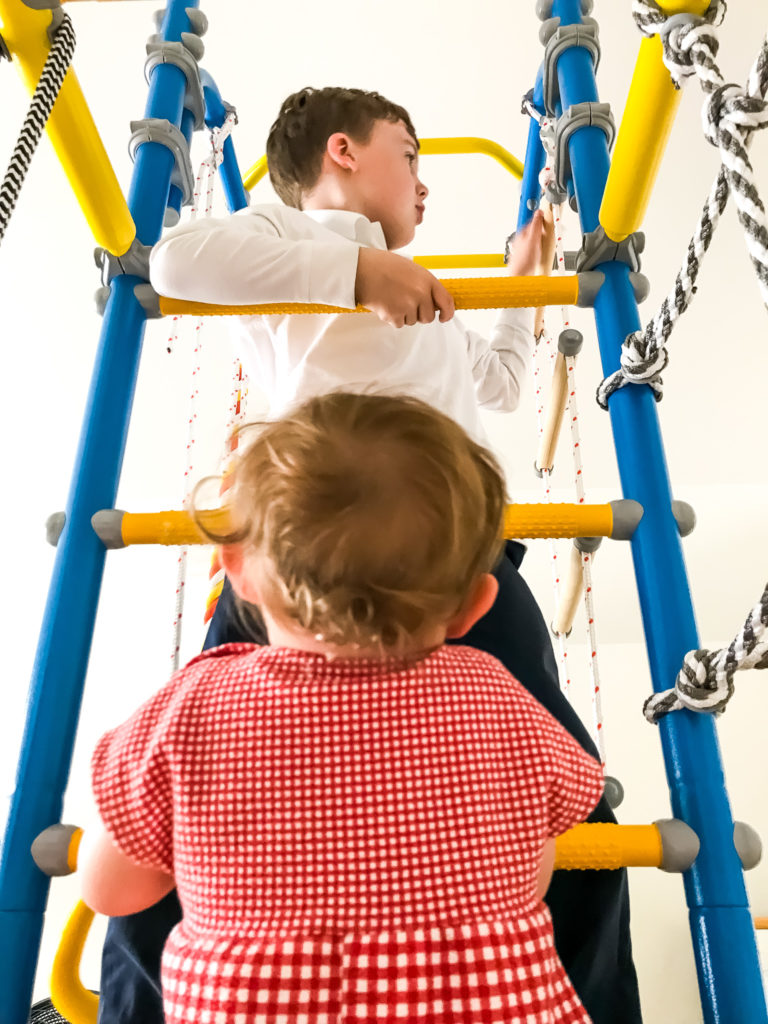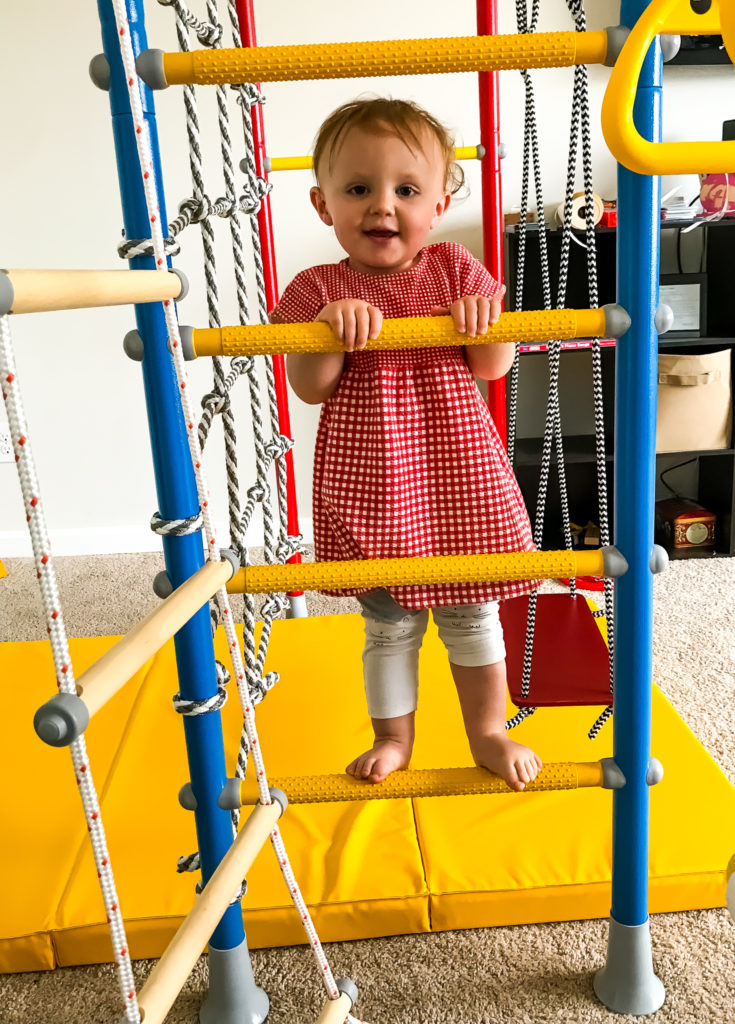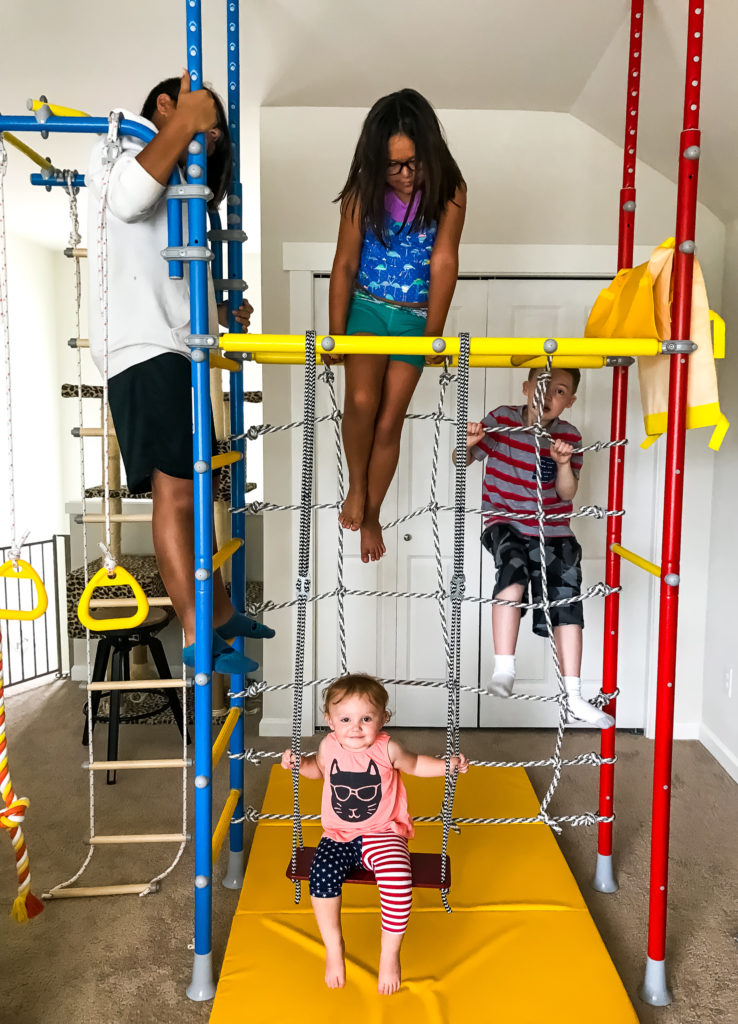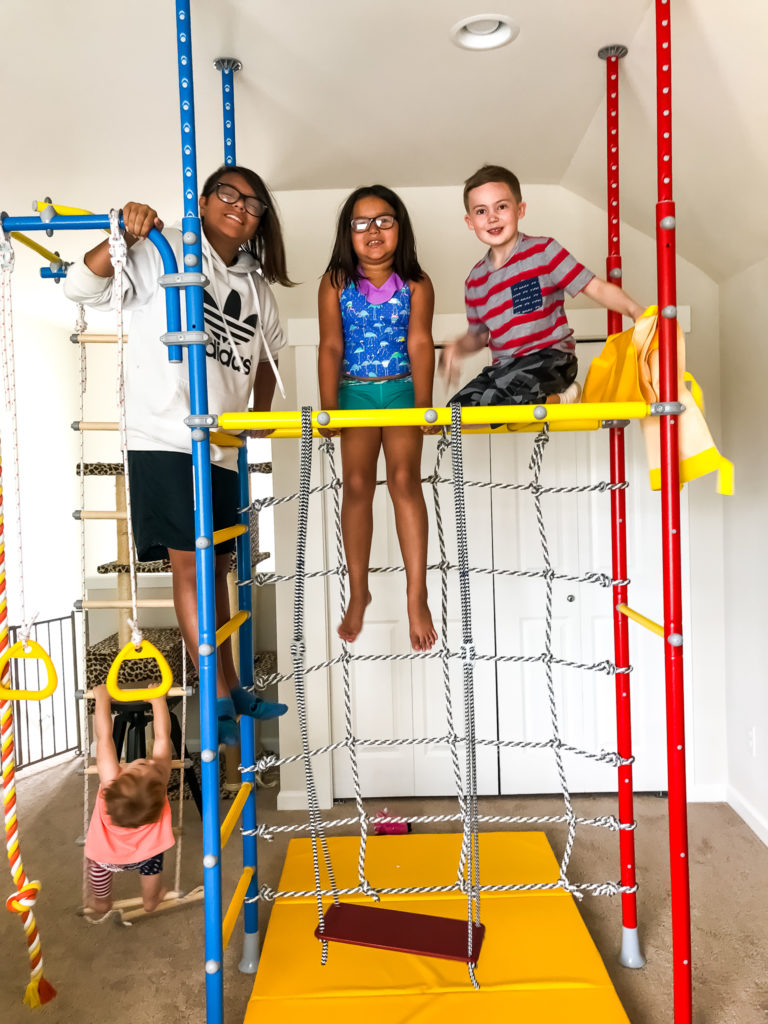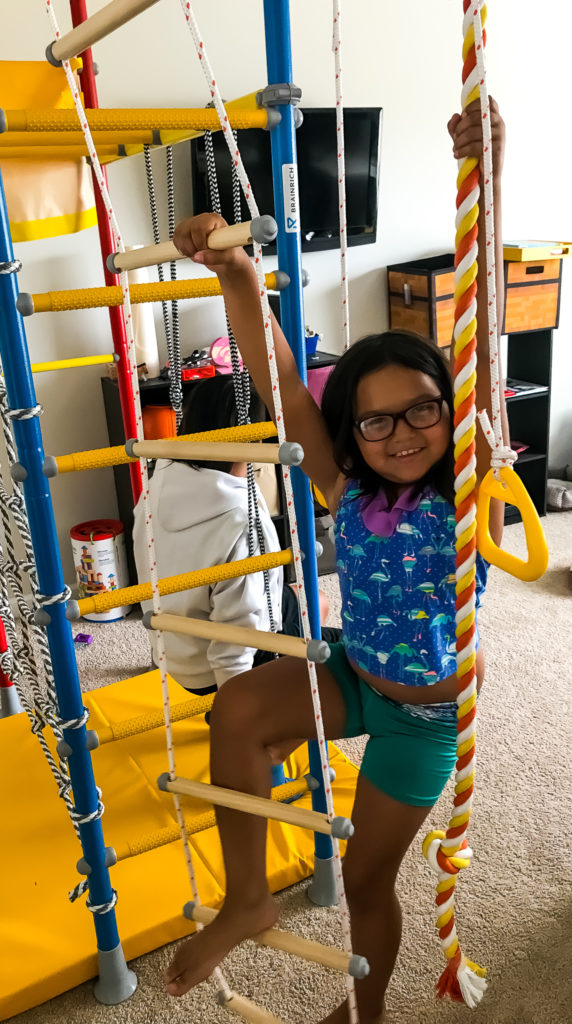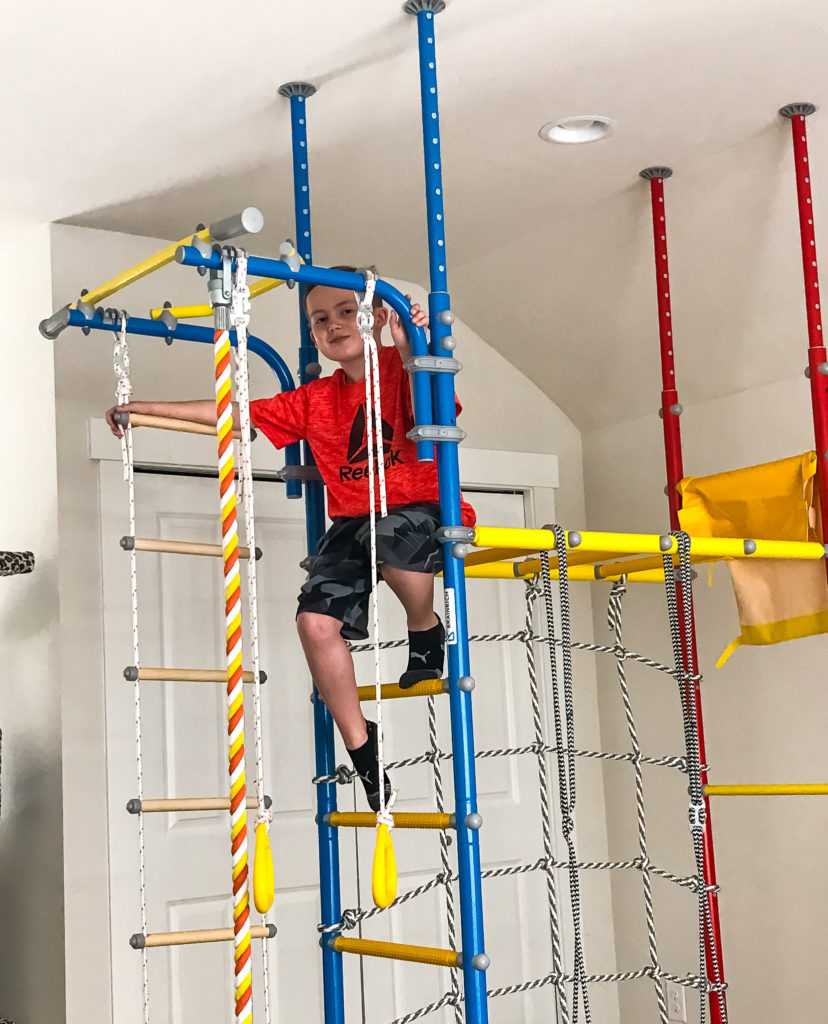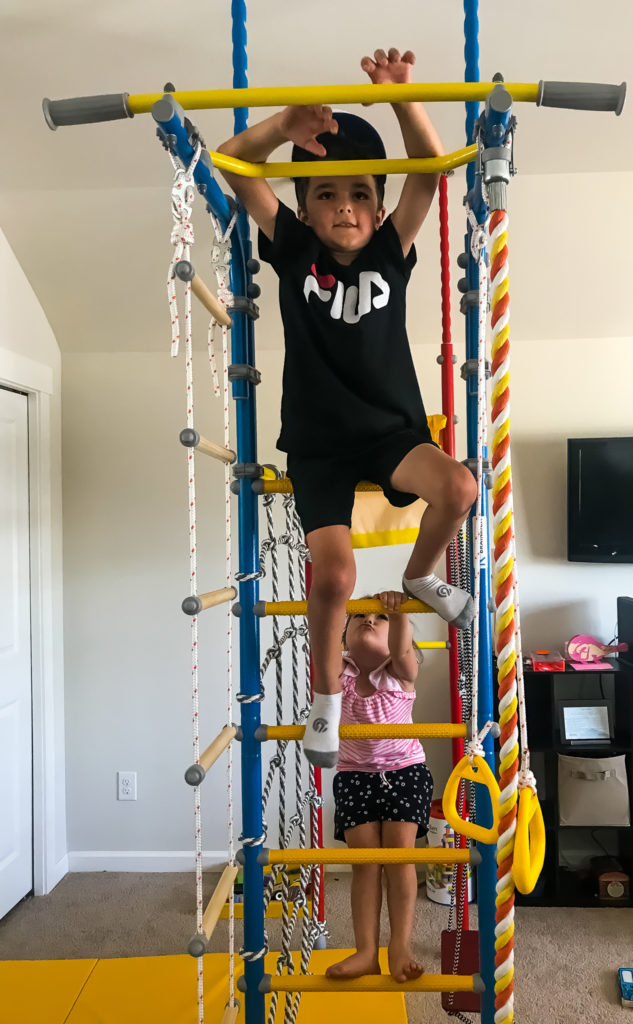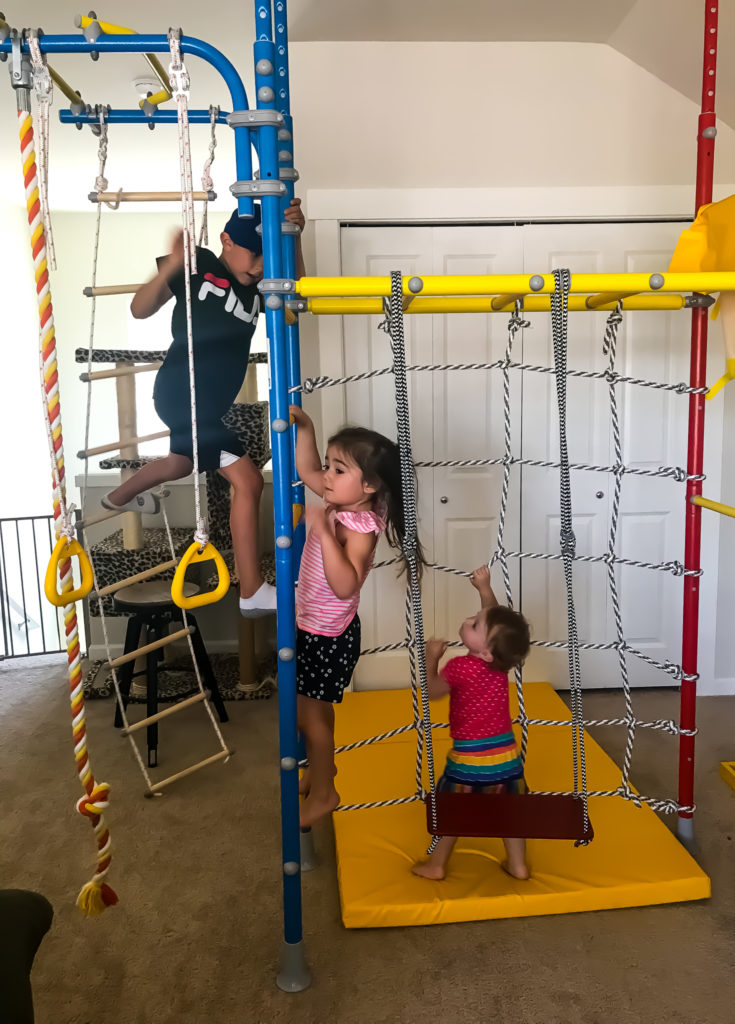 This post was originally written and posted on exploreyourbliss.com blog.